Why we Need to Rebuild Ukraine Now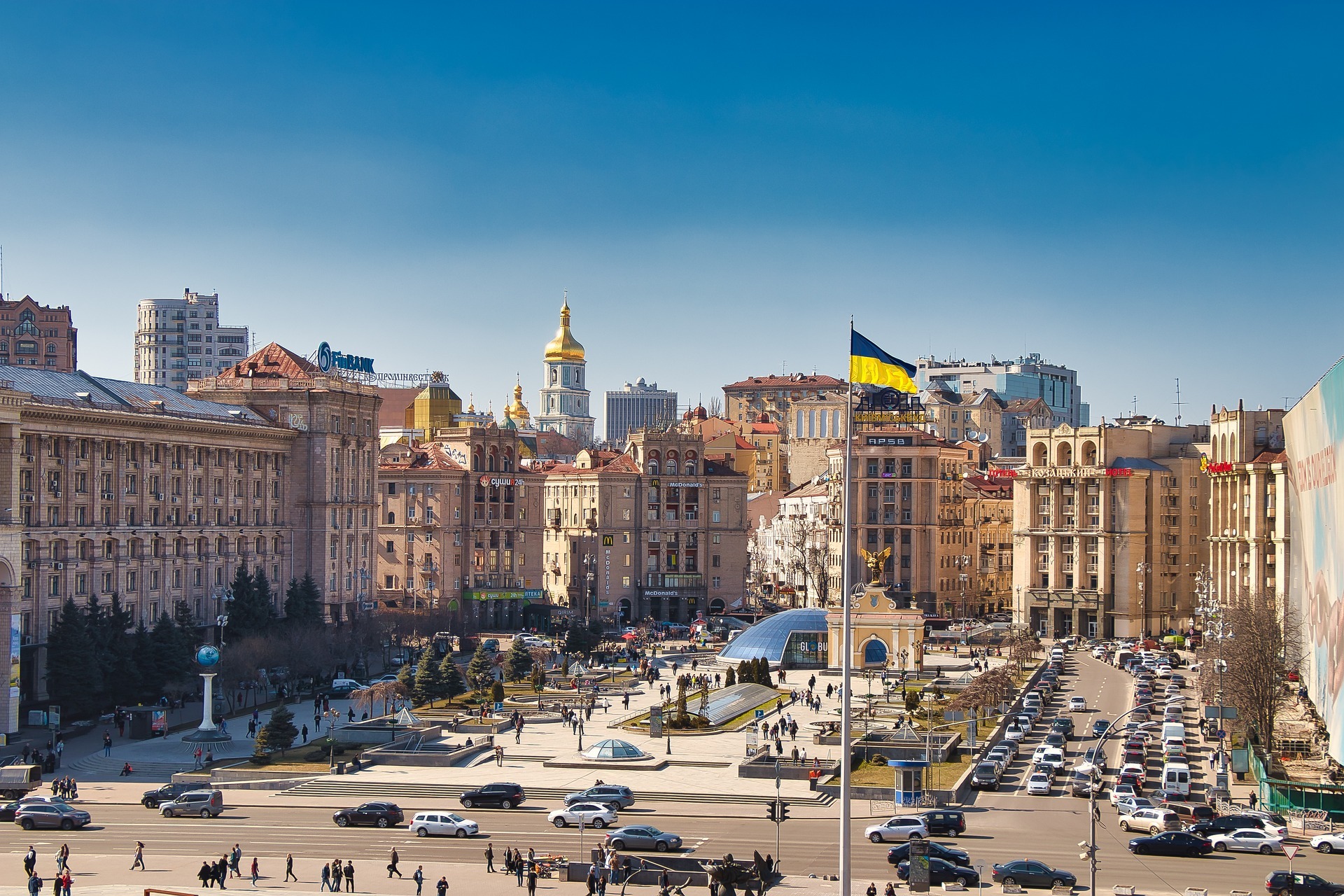 The West needs to start the reconstruction of Ukraine immediately, not wait for a peace settlement.

The war in Ukraine will soon enter its ninth month, with no end in sight. Ukraine's leaders have already begun presenting their vision for rebuilding the country at the Ukraine Recovery Conference in Lugano, Switzerland in July. But many Western leaders and experts would prefer to wait for the war to end before providing Ukraine with development aid. This is the wrong way to rebuild the country.
As a Pole with a Ukrainian grandmother, this war has many personal resonances. Her hometown of Kharkiv has been devastated by Russian troops. The stark images of the city remind me of the destruction of the urban core of Warsaw by the Germans during the Second World War.
The destruction of Warsaw was a great tragedy. But in February 1945, just weeks after German troops were ejected from the city, the local community started clearing the rubble and looking toward reconstruction. On Valentine's Day 1945, the Bureau for Reconstruction of the Capital was formally established, which quickly became the means by which the national government directed the resurrection of the city. Although the city's populace was for from content with the Soviet-imposed communist regime, people participated because they wanted their city back.
The other tragedy for Poland — and Ukraine, for that matter — was that the Kremlin did not allow the Soviet satellite states to take part in the Marshall Plan, which deprived them of the growth opportunities that other European countries had.
This time, we cannot allow stagnation to be the story of Kharkiv or Ukraine as a whole. We need to plan Ukraine's reconstruction right now, while also preparing for a protracted conflict. We also need simultaneously to temper Ukrainian aspirations to join the EU, making it clear that EU accession will not be an easy or fast process. At the same time, we must offer Ukraine reasonable alternate milestones that will bring it closer to the West.
A positional war in Ukraine?
The battle plans for Russia's invasion on February 24 essentially disregarded the capabilities of the Ukrainian army. Although the Russians were much better equipped than the Ukrainians and attacked on several fronts simultaneously, their units had up to three times fewer troops than the defenders. Russia failed to provide its units with proper air support and made only limited attacks on military infrastructure deep inside Ukraine.
Russia failed to take Ukraine in three days, as Western analysts had feared before the war. Now there is increasing talk of a protracted war, with serious global consequences.
Moscow's inability to defeat the Ukrainian army with the forces available to it has caused it to revise its plans and withdraw Russian troops from northern Ukraine, while also reducing its operations in the south. The Russians have moved from maneuver operations to positional warfare, amassing forces in the south and focusing on seizing the Donbas. In the last weeks, Ukraine has inflicted a major operational blow against the Russian military, recapturing a swath of territory in eastern Ukraine including the city of Izyum in its most significant military success since the Battle of Kyiv in March.
Russia's gigantic wartime losses and expenditures mean that a loss would be the end of the Putin regime. He will therefore push on until he can declare victory – or something he can "sell" to the Russians as victory. Meanwhile, Ukraine is fighting for survival – which means that it will fight until the end, too. A negotiated solution is unlikely at this point. Neither side wants to stop fighting, and the most likely outcome is a war that will go on for several years. Some observers say that this could become a "frozen conflict" that might last more than a decade. What exactly would constitute victory for Ukraine remains a question, too. The Ukrainians say that they want to completely expel the occupiers from their territory.
A growing number of Western experts and politicians, such as NATO Secretary General Jens Stoltenberg, warn that the war in Ukraine may turn into a positional war along the lines of the First World War. Neither side wishes to stop fighting, so they will dig in and suffer huge losses in attacks and counterattacks that ultimately have no impact on the frontline. In this scenario, the war could continue for months, or even years.
This raises questions about the West's ability to keep supporting Ukraine. It is most worried about energy and food security, but its COVID-damaged economies will also struggle to maintain support for Ukraine at current levels. Many politicians, especially in the U.S., admit that there is no alternative, since a Russian victory would be unacceptable for the Western world.
All of these factors combine to make any peace process a complex endeavour. The American position is that Kyiv must decide what terms of peace satisfy it, and that their support seeks to improve the Ukrainians' position at the negotiating table. Yet many Western politicians, led by French President Emmanuel Macron, believe that the best end to the war would be a quick peace treaty designed, so Putin can save face before the Russian people, meaning that Ukraine would have to agree to far-reaching concessions. This is something that the Baltic States, as well as other countries in Central Europe, will not accept. Lithuanian Foreign Minister Gabrielius Landsbergis has said so openly; in his view, if Ukraine gives up any territory, it will subvert the world order based on treaties and international law and turn it into one based on the law of the jungle. The peace process could therefore go on for years – or even a decade.
For this reason, the process of designing tools for Ukraine's reconstruction and reform cannot wait until the war is over: the country might not live to see it.
Advantages of reconstruction without a peace settlement
Delaying civilian reconstruction until the war is over would be a mistake. There are vast areas of Ukraine largely free from fighting; we need to try to bring normality to these regions to revive the Ukrainian economy. If not, foreign aid will be the only source sustaining millions of Ukrainians; given the capacity of the Russian state, this is not a solution that will allow Ukraine to hold out.
The limited rehabilitation of areas free from fighting, taking into account the risks of war, is key. In areas with fighting, military help and indispensable military infrastructure (railways, roads needed to transport aid) are paramount. Ukraine could benefit from the experience of advanced economies that have suffered nationwide disasters and updated their contingency plans for the future. New Zealand, which suffered a devastating earthquake in 2010/11, is one such example, as are Japan, Italy, Mexico and the US. Some reconstruction work cannot wait. Temporary transport infrastructure, such as pontoon bridges and other temporary vital infrastructure, can help move millions of pounds of grain out of the country. Farmers and agricultural businesses need support planting this year, as well as stronger storage facilities such as the temporary grain silos along the border with Poland promised by the Biden administration. Re-establishing basic transport, power and water connections, and creating temporary housing solutions are necessary basic steps for any reconstruction plan.
A report for CEPR entitled "A blueprint for the reconstruction of Ukraine" recommends dividing Ukraine into three types of regions: frontline, relatively safe and "deep behind the lines". Frontline regions need humanitarian aid (food, fuel, medicine), technical assistance with evacuating industrial capacity wherever feasible, technical assistance with government planning efforts for quasi-nationalized industries, and logistical support to keep these regions connected. Relatively safe regions need technical support for industrial capacity being relocated, employment/business activity programs for IDPs, technical support for organizing logistics, and digital support so that relocated businesses/people can work and live productively outside major agglomerations), support for additional transport corridors for humanitarian aid inwards and Ukrainian exports outwards, and the construction of modular housing and infrastructure. "Deep behind the lines" regions need special economic zones for Ukrainian enterprises in neighboring countries, employment opportunities and connections to Ukraine for refugees, support for additional transport corridors for humanitarian aid inwards and Ukrainian exports outwards, and the construction of modular housing and infrastructure that could be used in other regions when a ceasefire is viable. In these regions, opportunities for refugees could be created in fields such as producing humanitarian aid, launching back offices for service companies, and operating safe havens for engineering and R&D.
A frozen conflict could be very damaging for Ukraine's economy. A key ingredient for Ukrainian recovery will be the country's maritime ports. The agreement brokered by the UN and Turkey to transport grain from Odesa is a crucial element for making these ports operational, yet Russia attacked them just 24 hours after signing the deal. If the potential frozen conflict leaves Ukrainian ports free to operate, it will help the reconstruction process; if on the other hand, ports cannot operate safely and there are attacks on infrastructure in central and western Ukraine, the possibility for complex reconstruction will be greatly reduced.
How can we ensure that aid is not wasted?
Ukraine does not have a track record of transparent procedures or the rule of law. The pre-war government tried to change these structural issues that had dampened growth for years. Now the Ukrainian government must ensure transparent decision-making processes when it comes to allocating and using recovery funding and accountability at every level of government. This is particularly important as audit reports published prior to 2022 mention, for example, political influence over the distribution of intergovernmental grants that allowed them to be used for political campaigning in local constituencies.
As such, Ukraine should set up mechanisms to oversee the effective, efficient and transparent use of recovery funding. To solidify Ukraine's pre-war achievements relating to public spending accountability, donors' conditions should include the obligation to use the e-procurement system Prozorro. This would mean that all public contracts awarded as part of reconstruction programs beyond a specified threshold value should be processed via this system. To make public spending more accountable and help avoid conflicts of interest, project information should be available online. There should also be an obligatory preventive audit for public procurement procedures above a certain value (such as EUR 10 million) before the final contract is signed and work on the project begins.
Donor countries can use the off-the-shelf solutions used to monitor and evaluate EU cohesion policy solutions (with unavoidable simplifications and adjustments to Ukraine's capacities) Experience using OLAF and structured audits linked to the use of Cohesion Policy funds in Romania and Bulgaria could provide valuable lessons in making spending more accountable and strengthening local organizations' anti-fraud capacities.
It is also important that Ukraine should have strong and independent bodies to investigate, prosecute and monitor corruption. Donors should oblige the country to finalize work on legislative frameworks relating to the National Anti-Corruption Bureau (NABU), Special Anti-Corruption Prosecution Office (SAPO), High Anti-Corruption Court (HACC) and Asset Recovery and Management Agency (ARMA). These organizations should receive special capacity-building funds to expand their technical and operational capabilities, regardless of the level of funding they receive from the Ukrainian government. These local agencies should be obliged to cooperate closely and continuously with donors. Donors should reserve the right to suspend funding if established anti-fraud mechanisms are seriously violated or if there is lack of progress towards strategic goals, for example those connected with EU regulations.
Ukraine and the EU: achievable milestones
It will be difficult for Ukraine to become an EU member. For Ukraine, the symbolism associated with a future in the EU is important, but it is also liable to create false expectations. Indeed, a recent poll showed that nearly 70 percent of Ukrainians expect to join the EU within the next five years. Ukrainian society is therefore bound to face disappointment, as the accession process will inevitably be longer.
A number of significant stumbling blocks stand in the way of a quick Ukrainian accession to the EU. Firstly, Ukraine will probably have the unresolved problem of its eastern border and Russian-occupied territories. Secondly, it might not carry out the reforms stabilizing its economy fast enough. Thirdly, it may fail to implement the corruption-free rule of law required by other members. Finally, Western countries may put off enlargement, fearing that the rapid admission of this large country could block decision-making in the Council of the EU. Ukraine's accession would also require referendums in Western European countries; as things stand, the populations of Italy or France would likely reject it. It is therefore reasonable to seek alternatives to Ukraine attaining full EU membership or gradually joining Western institutions as the OECD, EFTA and finally the EU.
OECD membership
One possible milestone on a path toward EU membership for Ukraine could be admission to the OECD, a club of developed countries linked to the West which is also the G20 secretariat. Poland has been a member since 1996, and the OECD, which is also the G20 secretariat, helped with domestic reforms over the next years while Poland adjusted its economy and regulations to EU requirements.
Some steps have already been taken to associate Ukraine more closely with the OECD. In 2014, after the conflict in the Donbas began, the OECD signed a "memorandum of understanding" strengthening cooperation and knowledge sharing, and in 2015 Ukraine and the OECD signed an Action Plan. It was revised in 2019 and will be revised again in 2022 to ensure that it is compatible with the Ukrainian government's reconstruction plan.
Joining the European single market
Ukraine could benefit from the economic green-house that is the single market in different ways without acceding to EU membership. Joining European Free Trade Agreement (EFTA) or concluding a special agreement with EU countries could create the conditions for Ukraine to participate in the European common market and for its citizens to partake in free movement of people between European Economic Area (EEA) countries. This step would not tilt the power within the EU.
In the case of EFTA, Ukraine's membership application would have to be accepted unanimously by all the existing members (Iceland, Norway, Liechtenstein and Switzerland). This would be a challenge, given the small size of each member country. EFTA with its 14 million inhabitants is incomparable with around 40 million of Ukraine.
However, if Ukraine's application for EFTA membership were to be accepted, Ukraine could apply for EEA membership. The agreement on the terms of membership would then need to be ratified by all the member states.
Another option would be to establish a relationship with Ukraine similar to the one that the EEA has with Switzerland. The Swiss Confederation is a member of EFTA but not of EEA and has bilateral agreements with EEA. This would require the consent of EEA members, the Council of the European Union and the European Parliament, but it would not have to be ratified by all the member states' parliaments.
Other ideas for deeper integration with the EU include new cooperation instruments such as the "Partnership for Enlargement", which would include participation in the single market and access to the EU's cohesion funds, which would be very useful to Ukraine during its post-war reconstruction.
EU Membership or a Marshall Plan at lightning speed?
Ukraine has been granted fast-track status as a candidate for EU accession. This required member states' unanimity and a recommendation from the European Commission. There is no denying that this has happened ahead of time. I believe that even if Ukraine manages to solve the basic problems that could block its entry to the EU, some current member states will not allow Ukraine in as this country is too big and could leverage Eastearn Europe too much.
Opening negotiations will be virtually impossible in the near future for political reasons. The EU and Ukraine will need to negotiate the 35 chapters of the EU's acquis. All the member states will have to deem each of the chapters closed in order for the accession negotiations to be completed. The chapters span both political issues such as the judiciary and economic issues such as agriculture. But the biggest barrier to Ukraine's EU accession may come after years of accession negotiations: Western European societies may not agree to enlargement in referenda.
The Marshall Plan after the Second World War came too late — three years after hostilities ended — to help European countries with immediate post-war reconstruction. Ukraine is in a worse situation than Western Europe was after its war, and the conflict might not end as quickly as expected. This means that we need a realistic reconstruction and reform plan that can be implemented as quickly and smoothly as possible — and before the war ends.
The Marshall Plan is a source of inspiration for ambitious Ukraine aid, but a 21st century plan should adapt, not build, aid institutions. The size of the investment necessary for Ukraine's reconstruction is still unclear due to the fog of war. Preliminary estimates have the cost of rebuilding the damaged Ukrainian infrastructure at more than EUR 100 billion, a sum that is manageable for donors when spread out over years.
Given the scale of the potential financial commitment, unusual funding sources should be considered. The seizure of frozen Russian assets could be a meaningful contribution to funding for Ukraine, but only in the long term. While it may require a new legal basis in most donor countries and therefore take time to implement, the seizure of the frozen assets of Russia's central bank — currently amounting to EUR 300 billion — is a promising and consequential option. Russian retaliation will be a risk, however, and the danger of setting an unwanted precedent needs to be managed.